Introducing Bigmoji and Personalization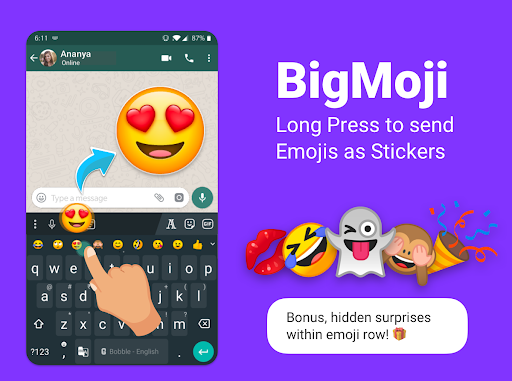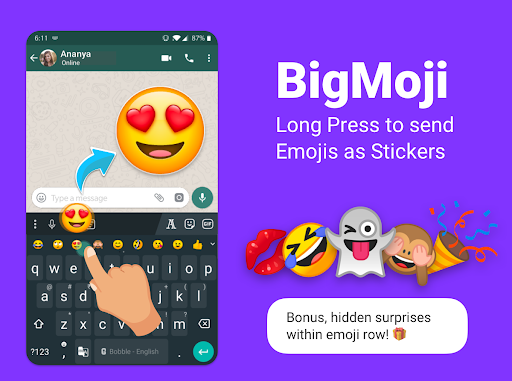 Introducing Bigmoji and Personalization
The conversions are getting by time to time. With changes in technology, everything is being transformed into something better. From apps to social media to websites to even keyboards everything is changing with time and with coming technologies.
As we already know, keyboards that we use to text, chat, or anything else have features such as sending emoticons, GIFs, stickers, etcmakes the conversation better and help express our emotions in a better way. People are loving the idea of sending emoticons or emojis, especially to have a fun-filled conversation with your family or friends.
The internet has widely changed the way we communicate and emojis have made it possible. Keeping in mind the changes and new opportunities The Bharat Keyboard has introduced BigMoji. You can now make your chats even more interesting and engaging by sending BigMojis and expressing your emotions a way better than that of sending small emojis.
Another very important change that now we can see introduced by The Bharat Keyboard App is personalization. Who doesn't love personalizing their stuff? Yes, we know you love personalization and that's why they have introduced a feature for your keyboard app too.
You can now change the themes, fonts, send hilarious stickers, and have fun with the help of various features that help you personalize your experience as well as your keyboard.
Let's now discuss how BigMoji and personalization is playing a huge role in making conversations even more exciting as well as interesting-
● Through BigMojis you can send emojis in the form of stickers that look great in the middle of boring chats. Your friends and you would love to chat while sending these BigMojis in between according to your moods.
● The keyboards are the most used function on the phone and thus it needs to be reliable and according to your taste.
● Personalization lets you change the themes of the keyboard, type in your native language, send hilarious and funny stickers and GIFs, type your message, press the GIF button to get that exact GIF of your choice.
● Through BigMojis and personalization, people are now shifting towards Hindi Keyboard app and trying these features with extra fun.
● People of all regions of any language can now use this keyboard to type in their native language and even they can get stickers and GIFs of their language so that nobody can miss out on the chance of having an exciting and interesting conversation with their close ones.
These were some of the stunning ideas that let you have fun and be more expressive while conversing with anyone. Personalization of themes, fonts, sending funny stickers, typing in your native language, and sending BigMojis makes a difference. One should be the part of an interesting difference and suggest others to do the same. Download the Hindi keyboard by Bharat and say goodbye to your old default keyboard that is boring and lacks creativity.