Make your Diwali celebration memorable with Hindi keyboard App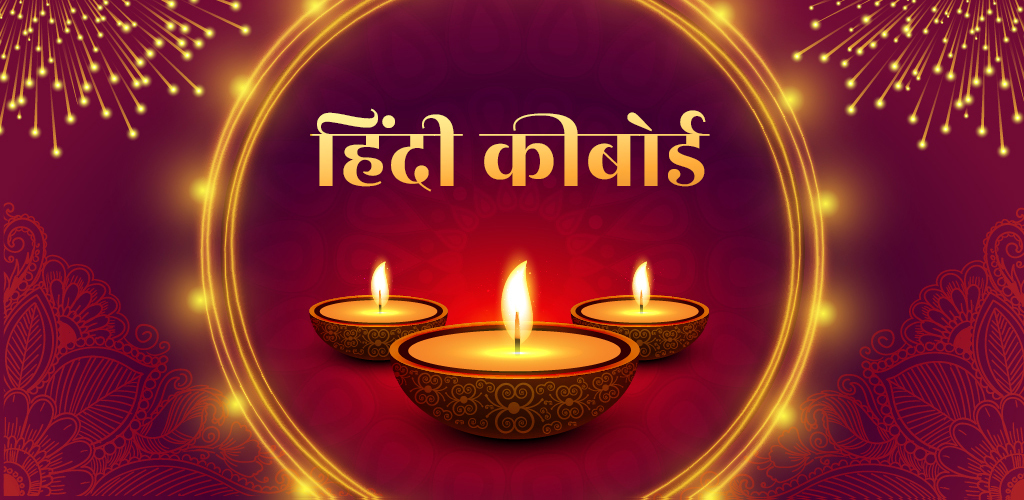 Diwali, the festival of lights, positivity, love, and prosperity. Celebrated for thousands of years and still feels fresh as always. Lights, colors, rangolis, sweets, snacks, kandils, diye, fireworks and beautiful dresses, ahh! The vibe of Diwali is just so surreal. It's beautiful and calm yet so full of celebration and energy! This festival marks the end of the year for Hindus and is celebrated in the memory of the time when Shree Ram returned back to Ayodhya. 
Even people from different religions join this celebration to share this vibe.
Dipawali
Diwali is also called Deepawali because of the Diyas. Diyas play an important role in the Hindu religion. It is often lit in the name of the Divine and is kept in the home temples, holy trees, in religious celebrations, and in many other such occasions. We all have grown up seeing diyas outside of houses during Diwali and honestly it is such a beauty. Diyas are very simple and cheap to use too which is why it is commonly believed that they were lit up outside houses of people in the past during Diwali because many people used to return home from other areas and during winter the nights are longer, darker, and colder so these were a lot of help. Make your Diwali "Deepawali" with these stickers from the Hindi keyboard app and send these to your loved ones.
The Trio of days
Diwali is celebrated in different ways across the nation, but the most important three days are almost followed everywhere.
First comes dhanteras, followed by laxmipujan and then Govardhan poojan.
These three days are the most important part of the Diwali celebration and although "laxmipujan" is supposed to be the day of Diwali, it is actually the entire month where it is celebrated which ends on Laxmipujan and the Govardhan Poojan where the celebrations end.
Besides this, many people keep celebrating Diwali for days after this, and understandably so!
Dhanteras
The name Dhanteras has the first prefix of the word as Dhan which means money or something of value. This day is usually celebrated by buying gold, silver, or any other form of metal. These include everything from jewelry, vehicles to simple things like utensils. It is said that this brings loads of luck and prosperity. Also, it is the best time to buy any form of metal and also is considered to be lucky for you.
Laxmi Pujan
this day is considered to be the "main day of Diwali". On this day, people wear new clothes and accessories while also enjoying the day by celebrating with friends, making rangoli, and eating and sharing snacks. Then in the evening, people do pooja of their "Laxmi" which implies the goddess herself as well the Laxmi of your home which is your daughter, wife, and sister.  Also, things bought on dhanteras are kept together and then teeka is applied on all of them with all the previous jewelry one has. Then people usually proceed to meet each other and enjoy themselves together.
Govardhan Pooja
The least known among the three is Govardhan pooja. This is because people celebrate it in different ways. In most parts of northern India like Bihar, Jharkhand, UP, it is celebrated by brothers and sisters. Usually, the sister keeps fast and wishes luck and prosperity to her brother while also cooking sweets for them. This signifies the bond of siblings and helps build an even purer relationship between them. 
Alternatively, this day is also celebrated by decorating the cows and buffalo's horns and skin with natural colors or by decorating them with beautiful clothes and then feeding them a meal that is also consumed by humans that offer them. This helps in building a bond with domestic animals. This also signifies that humans should always be humble and grateful towards animals or nature. 
Celebrating with Hindi keyboard
Celebrating alone is no fun though! If we do not chat with people or not share our experiences with our loved ones who couldn't come visit us or whom we simply want to chat with, is it even a celebration? No right! So, let's break the boundaries and celebrate by talking to everyone in our own language Hindi and that too in Hindi font! Everyone can read, understand and enjoy it. Plus, we are super busy during the festivals so we barely even get time to type! In these times we need someone to type it for us. But again, everyone is busy and hence we can do just one thing, leave it to the app! yes, you heard it right! The Hindi keyboard is specially designed to be super-efficient in voice typing in Hindi. It is an Indian app and hence built specially to understand the accent, the tone, and the words. 
Stickers and more
There are customizable stickers, bigger emojis and stickers especially added to fit the mood of celebrations. For example, there are a fresh set of Hindi stickers made especially for Diwali 2021! You can download Hindi keyboard online which is completely free of cost, does not take too much space in your phone, provides you with exclusive features like customizable stickers, bobblehead stickers, bigger emojis, voice typing, and much much more. Just download this app and start exploring and you won't regret it!