Write Hindi in English – A guide to Transliteration on the Hindi Keyboard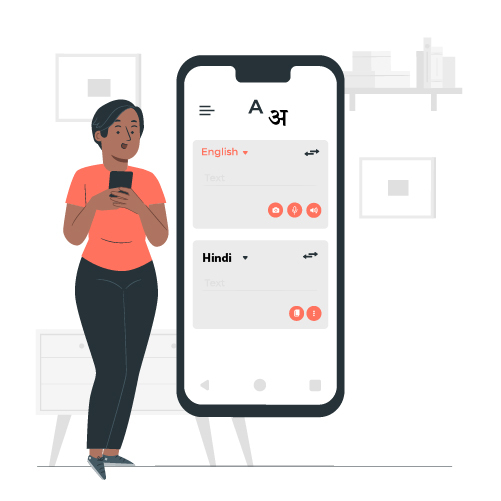 Every digital space is filled with text typed by someone. The success of the internet is its inclusivity of all languages. It is not as if you cannot host content in a particular language. It is just a matter of typing in the given language. But, if typing in it is difficult, it is quite obvious that people will hesitate to do it. Easy and simplicity of products and services is the key to usage in today's time. Keeping this in mind, encouraging better regional typing solutions in India was the need of the hour. Over-dependence on foreign apps and rising demands and sentiments for Indian-made apps paved the way for the establishment of the best Keyboard apps in India. Bharat keyboard's regional typing keyboards have made the nation ecstatic with the features it provides and simplicity in its usage.
Bharat keyboards have about four keyboards that include Bangla, Malayalam, Marathi, and Hindi. We'll be explaining how the keyboards are similar and how they are different at the same time. Talking about the Hindi keyboard app, for now, it is slowly and steadily breaking stigmas relating to Hindi typing. The fear, hesitancy to use technology, and difficulty for elders in typing, all these things are carefully thought of in it. The keyboard layout, size, typing methods, and help in sentence formations make typing easy. Let us know about this in detail.
The Hindi keyboard's layout is completely customizable. The keyboard length, width, and button sizes are adjustable, hence depending on your comfort, you can select the one best suited to you. The keyboard may seem wholesome due to its features, which is why you can select which features you want as quick access on your keyboard. This reduces confusion and mis-clicks, especially amongst the elders. In personalization, you can select from the many themes that the keyboard offers or make your own. Add background images to your keyboard and make it more appealing and comfortable to use. Once the keyboard looks all set to go, we can move on to typing.
The Hindi keyboard has three predominant typing methods, the first two are to type completely using Hindi and English letters, while the third is to type Hindi using English letters. Called transliteration, it is a breakthrough in technology and an excellent application of Artificial intelligence (AI). We mostly use Hindi with English letters as it is fast and not so difficult to understand. But, it often takes the fun and feels away from typing in the Devanagari script.
To use the Hinglish keyboard, select the A+क button on the left side of the spacebar. This activates the Hinglish keyboard. The order of layouts is English, then Hinglish, and then Hindi. When you switch to the Hinglish keyboard, you won't observe any changes since we are going to type with English letters anyway.
Start typing. If you want to ask your friend how he is, type Kaisa hai and the keyboard will convert words to Hindi in real-time.
You will have to keep an eye on phonetics. You might have to type double an in order to give the आ sound. For example, you want to type लावारिस, and you start with 'Lava..', then chances are the AI will convert it to लव. Since the transliteration is real-time, you will understand if you need to add extra vowels or consonants to get the desired word.
Do not get scared, since the keyboard is powered with AI, almost the entire Hindi dictionary is fed into it. Hence, even if you don't pay attention to the letter combinations, word suggestions will automatically pop on your keyboard. Simply click on it to bring it to the chatbox.
Transliteration has enabled users of all ages to type messages in a fast and simple way. It is worth noting that of all Bharat keyboards including the Malayalam Keyboard app that provides the best transliteration from English to Malayalam.
But typing is not everything that makes these keyboards great. You can even use the Hindi sticker keyboard. The reason is that there are hundreds of ready-made sticker packs available on the keyboard. Sticker packs of the latest Hindi movies, TV series, greetings, festivals, advertisements, and many others. Either send these stickers on your chats or make them instantly, the Hindi keyboard lets you do it instantly. 
You can make your avatars and use them indefinitely in the sticker packs available. Make GIFs and animated stickers by recording from the keyboard itself. These stickers are unique and unlike any other user on texting apps. Using them in your chats will create an uproar of cheers. People will move their fingers rapidly to add them to their favorites. Want to reply to someone with a few words? Send text stickers using the Pop-texts instead of using words. The stickers are available for up to 25 characters, and their preview is shown on the keyboard. Click on it to send them to your chats.

Bharat keyboards have a collection of the most fun apps in terms of communication using emojis. The specially designed emojis give a different feel to the keyboard. These emojis can be shared as stickers by making them big. These are called Bigmojis. Hold on to any emoji for a few seconds and release it to send them. Since all these sticker features are already present on the keyboard, I don't have to download any third-party sticker apps on my phone. Each keyboard has its own regional language stickers. As I mentioned, the Hindi keyboard has many Hindi stickers, similarly, the Malayalam keyboard has the latest and regularly updated Malayali stickers, and so on.
The Hindi keyboard is without any arguments, the best Hindi typing solution on Playstore. The keyboard is secure, having received many awards for its user safety. Smart word suggestions and sentence formation reduce time in typing long messages. This is also aided with swipe typing and the speech-to-text feature. The library of content in the regional language such as jokes, quotes, and poems, the Bharat keyboards are an asset for anyone who wants to experience typing in a great way.